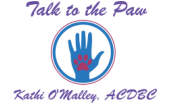 Home - about Kathi


Kathi O'Malley is an Associate Certified Dog Behavior Consultant with the International Association of Animal Behavior Consultants, and a Full Member of the Association of Pet Dog Trainers. She offers in-home training in Dallas and the surrounding neighborhoods. Her area of interest lies in resolving specific behavior issues and conflicts that develop between people and their companions.

Kathi believes that training your dog should look more like raising any other young member of a family or social group. Instead of thinking in terms of "pack" or "alpha", we need to think in the same terms we think of any social group, ie. families, organizations, classrooms, or even corporations. As long as the right person/leader is in charge, with the best interest of the entire group in mind, all issues can be resolved because everyone in that group can trust that the interactions, the environment and the resources will be safely controlled and structured. That is why it is important to lead our pets without using fear, force or intimidation. Safety is key!

Communication then becomes pivotal. We bring dogs into our world and expect them to understand us, when we should be asking how we can better understand them by learning their language, then teaching them ours! We humans bombard our dogs with all the stimulation our fast paced lives have created without giving them the proper skills to cope. Kathi creates an education process that is fun and rewarding for both owners and their pets. She emphasizes how positive change occurs when people think of themselves and their dogs as a team. This team is oriented towards the same goal, a cooperative partnership between man and his best friend. The best way to accomplish that goal is to teach humans how to read and understand canine body language. Then we are on the path to affecting our dogs behavior by clearly communicating what they can expect from us, and what we need from them to live out a mutually loving and healthy relationship!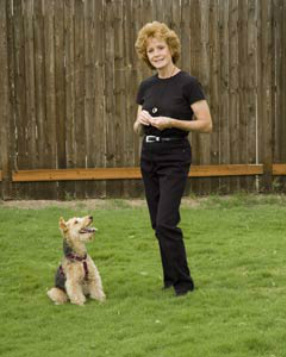 Photo by Julie Bailey
Kathi O'Malley with her beloved companion Shelby,
Kathi O'Malley, BS., Ed
Associate Certified Dog Behavior Consultant, IAABC
Full Member APDT
972-862-7229
http//www.talk2thepaw.com
email:
kathi@talk2thepaw.com
---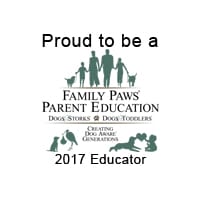 Kathi is a licensed presenter for the Dogs and Storks and the Family Paws Parent Education Programs.
This program was founded by Jennifer Shryock, a Certified Dog Behavior Consultant with a degree in Special Education. Jennifer founded the Family Paws Parent Education Program to aid parents in keeping kids and dogs safe together. Learn more about what to expect while you are expecting, how to prepare yourselves and your dog, what to do after the baby comes home, and finally how to keep your child and dog safe when baby becomes toddler! Read more about the programs offered at
www.familypaws.com
.
---